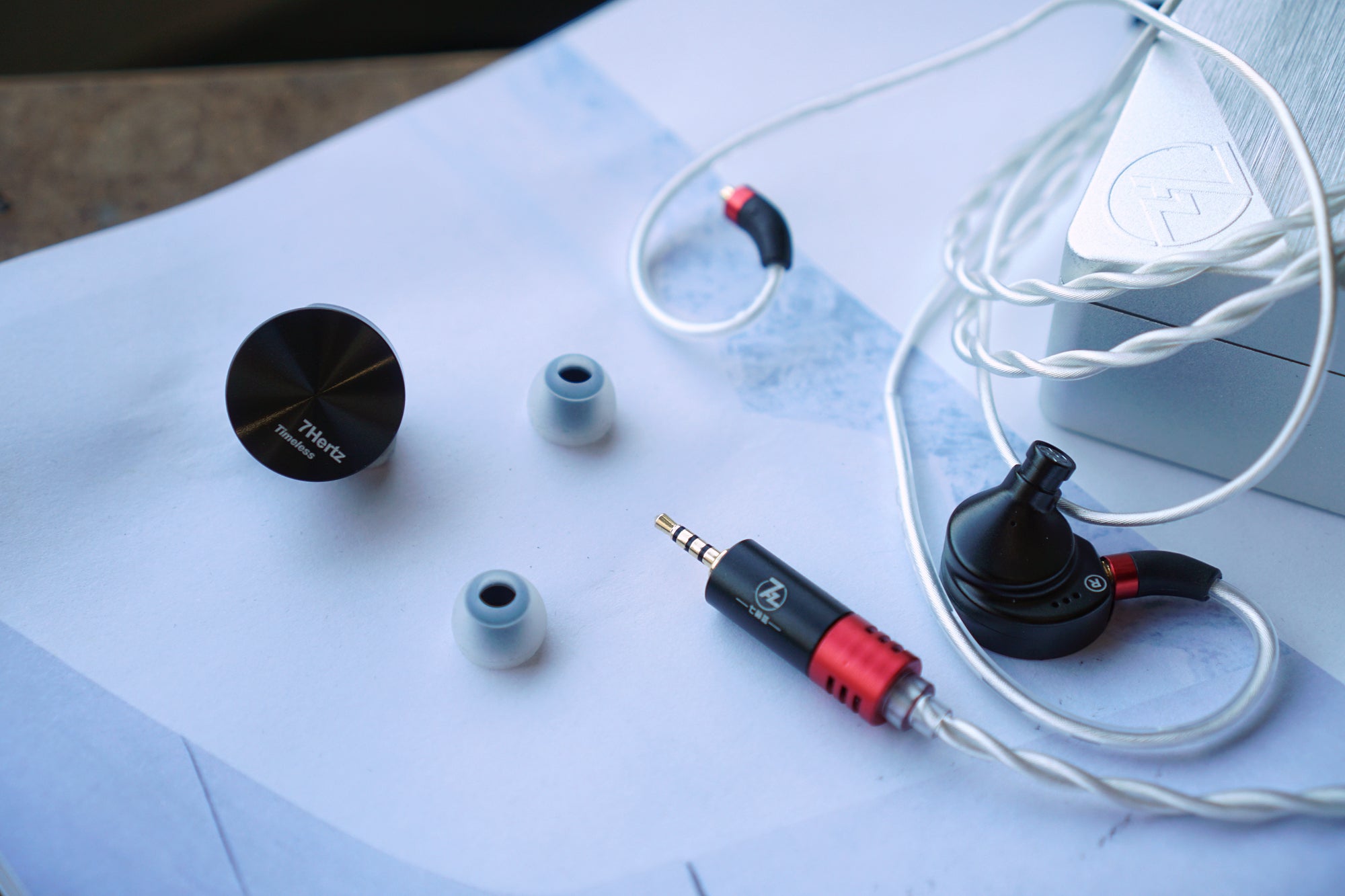 ✒️ Author: Danny | 📷 Photo: Hai Wei
Earphones equipped with Planar Magnetic Drivers certainly didn't make the splash that was expected. It's so far a bit of a mixed bag between compromising the strengths of Planar Driver technicalities, drivability, sound tonality, form factor etc. That's why when 7Hz came out with the Timeless, there was a bit of fanfare and exposure building up late 2021.
The Timeless runs on the 14.2mm Planar Driver configuration, an ultrathin diaphragm sandwich in between double-sided N52 Magnet Array as expected of a Planar Magnetic Driver. The strengths of Planar Magnetic Drivers lies in having more even vibration across the diaphragm.
Outer shell housing is made by CNC off a whole piece of Aviation-grade Aluminum, finishing up with a black coating and vinyl lookalike round faceplate. The earphone fitting is a standard over-the-ear cable affair and safe to say the round faceplate doesn't impede on providing a comfortable fit. A silver-plated OCC copper cable is bundled as stock although you'll have to choose between getting a Balanced Plug (2.5mm/4.4mm) or Single Ended Plug (3.5mm) type when purchasing the earphone.
Onto the juicy bits, 7Hz Timeless is probably one of the rare Planar Magnetic Earphones with sound that is inoffensive, easy to like for most listeners. It has a touch of fun to the sound, sub bass takes the highlight here with plenty of rumble and grunt. Mid bass comes in fast with a light thump, personally I would prefer it if it hits with better thump and definition. Vocals are clear, transparent enough to still be able to pick between the notes. Treble is well extended with not much sibilance to report back. Overall the Timeless is still can be considered balanced and performs decently on busy tracks.
◆ Planar Magnetic Driver
◆ Double-sided N52 Magnet Array
◆ Ultra-thin diaphragm
◆ Beryllium Copper MMCX jack
◆ CNC Aviation Aluminium Shell Housing
◆ Silver-plated OCC Copper Cable
◆ Choice between 2.5mm BAL / 4.4mm BAL / 3.5mm SE cable package
//
✨ Shopify | http://bit.ly/7Hz-Timeless-Shop |
◇ Retail : RM879 | Promo : PM for best price⠀
✨ BUNDLE DEAL
◇ top up RM309 for Uranus IEM-4C OCC Copper cable (4 wires: 100+ strands 7N Deep Cryo OCC copper / 23awg per wire. WBT solder tin)
Related Post