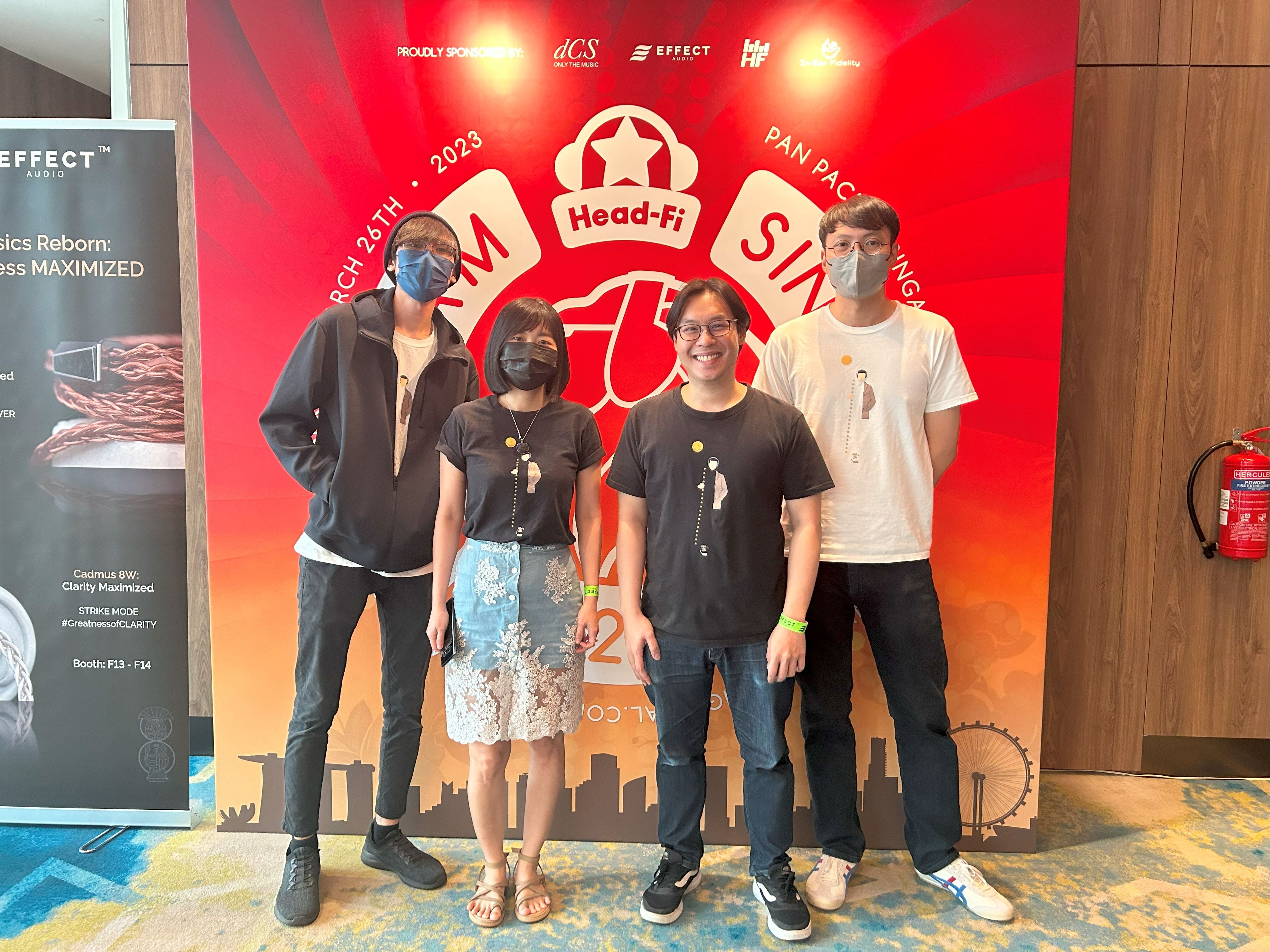 ⭐ CanJam Singapore 2023 | Kah Hon's Review |
More Stars Picker's In-House Review | starspickeraudio.net/blogs/blog
Dan Clark - Corina
Their latest flagship Electrostatic headphone. Based upon the success of the Voce model, the Corina aims to improve on the technicalities of the sound as well as the design. From an aesthetic perspective, the Corina looks absolutely beautiful with the unique designed grill on the earcups, robust build with no creaking joints and plush earpads. Corina's new tuning is fun yet lifelike, with rich sweet vocals, offers a weightier and more percussive bottom end, with a wider and deeper soundstage. The Corina's tonality still leans towards darker, grungy sound and while it's not the airiest/extending, the detail retrieval is amazing, and it's tuning excels in almost every genre. Overall, the Corina offers a full and dynamic sound, without losing any microdetails or technicalities that you come to expect from an electrostatic headphone. Well done.
Noble audio - Fokus Mystique
From a technical perspective, these are some of the most impressive TWS iems I've heard so far. Has the same sonic performance as you would get with a well-tuned wired IEM. V-shaped tuning with a slight dip in the midrange, with a warmer/darker timbre, especially on the lows to lower mids. The bass reaches down low, similar to their Noble signature, with more emphasis on the subbass with nice texture/definition to the slam. The treble extends quite far with more upper treble emphasis, making it detailed and sparkly. Mids are overall warmer in tone, giving male vocals lots of definition while female vocals are slightly thick but still sounds full and clear. Surprisingly, the soundstage and imaging are pretty good.
Advance Acousticwerkes - Canary Pro
21 BA drivers! Probably the only IEM I've had the pleasure to demo with that many drivers per side. There were 2 versions on demo, each offering different tunings; one of the prototypes has a fun/balanced tuning, with a more forward presentation while the other has more linear tuning with better technicalities, that said both can bring out lots of detail and information when the recording is done as such. Imaging and separation are quite vivid and has a good sense of air and layering.
64 Audio - U4S
The 64audio U4S is marketed as a more budget friendly version of U12T. The tuning between the 2 are almost spot on, but what makes the U12T stand above are its technicalities and resolution. Bass on the U4S is similar to the U12T, fast and energetic, where it slams quite hard and deep, it can be a bit boomy to some, but you can swap its modules to alter to your liking. While mids are clear and smooth, they are a bit recessed, and the highs are sparkly but lacks some of the finesse that the U12T has. Knowing that you can get an IEM that has semblance to the U12T at a much more affordable price is a win in my books.
QDC - Tiger
In conjunction with the 2023 Chinese lunar calendar zodiac, QDC has launched the Tiger, a new model in their Hi-fi series, featuring 6BA and 2 Estat drivers. The entire IEM shell is made from titanium and the faceplate has a tiger claw cutout, with gold plating underneath it, creating an interesting 3D effect. Unlike their more neutral tuning, the Tiger takes a different direction, going for a more coloured tuning, which makes the Tiger sound fun and dynamic. It's slightly U/V-shape sound, with a very well controlled and "safe" tuning, however with its great technicalities, the Tiger sounds (for lack of a better term) very "audiophile", luxurious tone, with its rich mids and sparkly treble.There is a slight dip in the upper mids making vocals less pronounced but still plenty of body and control. Sophisticated tuning with a lot of details yet not fatiguing as well.
Empire ears - Prototype V14-D2
Empire Ears were displaying many of their models at their booth, but what caught my eye was a prototype dubbed the "V14-D2". The prototype features 14BA driver setup, and on first listen, I found them to be the most different tuning from their house tuning. Overall, it has a neutral/balanced signature with smooth mids and highs. Its presentation is much less forward/intense than the rest of their lineup, it could be due to its wider soundstage and more extension in the air. It also seems to handle instrumentation and complex arrangements well without any signs of congestion which is great for live performances and even some classical tracks.
Astell & Kern - Pathfinder (bonus content)
AK and Campfire are back again, this time they have collaborated to create the Pathfinder. You can tell that it still has some of the Campfire sound signature to them but more neutral in tonality (which to me, sounds like AK's touch). Pathfinder has a smooth, natural sound with deep punchy bass. Good for electronic sounds and rock genres. Clean sound with some richness and good details and sparkle, but never to the point of being the main attraction. The thing that stood out to me was how wide and spacious the soundstage is, having a really nice holographic feel and with lots of air and separation within the instruments.
✒️ Author :  Kah Hon | 📷 Photo :  Kah Hon
 More Stars Picker's In-House Review | starspickeraudio.net/blogs/blog

- - - - -
⠀
■ Physical shop / audio specialist⁣ since 2013
■ 100% genuine / warranty covered⁣
■ Malaysia's first audio theme cafe / library
Related Post