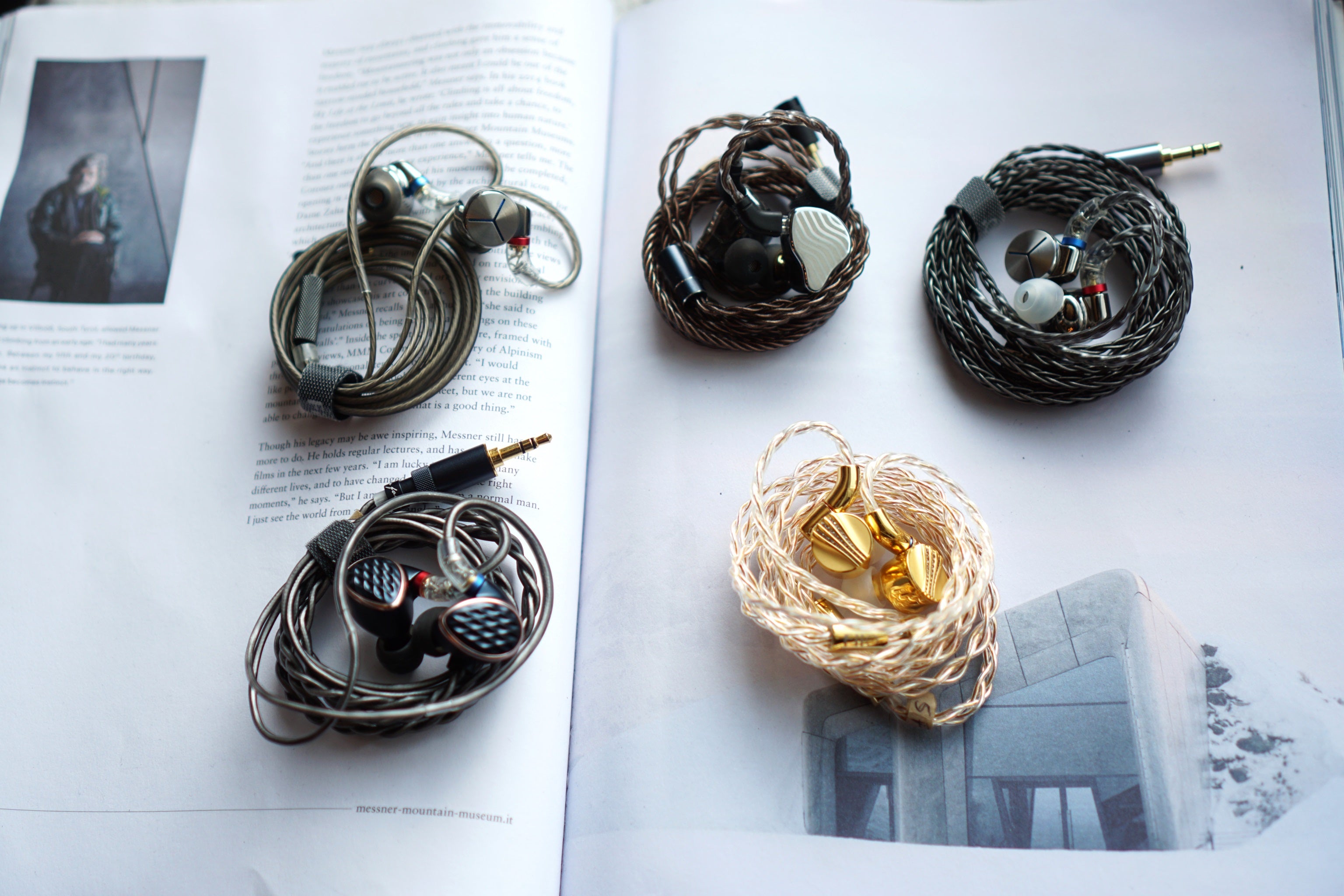 ⭐ Fiio IEM shootout | 1st Impressions

▶️ Demo units are available for audition now!

Fiio's hasn't shown any signs of slowing down, launching a plethora of new devices from their entire lineup from IEMs, right to DAPs & Dac/amps. Today we are having a brief listening and comparison with their new IEM models launched; the Fiio FH7S, FH15, FDX (limited edition), along with 2 new models under the 'Jade Audio' banner, the JH3 & JD7. We did a brief back-to-back session, to see how well they compare and fare against each other and the rest of the market.
Fiio FA7S - 6BA setup with 3-way crossover system. Uses the same shell design as the JD7, which I personally like it alot, its sturdy yet well built and futuristic looking, while not being awkward in design when worn. The FA7S channels the same essence as Fh9, but now using a custom 4BA setup for extra clarity and detail retrieval. Probably due to its semi open back design/nature, the FH7S has a very pleasantly wide, open soundstage with good imaging and separation.

 
Fiio JH3 - 1DD/2BA setup. One of their new budget models under the Jade audio branding. Metal shell finish and plastic body. 2 pin detachable cable. Needs quite a bit of power to drive them, using off your phone/laptop alone and it may struggle to get the right listening volume. The sound signature is neutral with a slight boost in bass and highs, V-shape sounding but not overly done. Cold tuning, more thin and dry sounding, but has decent bass texture to make it sound less clinical. bit harsh on the treble/top end. Timbre sounds dry and artificial. Soundstage is average, not tall nor wide. better for non vocal tracks, Rock and EDM.


Fiio JD7 - 1DD setup. Another model under the Jade Audio line, the JD7 overall is balanced sounding, slightly more towards the colder side. Similar tuning to the FH3, but less V-shape sounding. It's also less dry sounding compared to previous house tuning, slightly warmer. Decent detail retrieval and has nice sparkle. Not sharp or sibilant, but has a more energetic bite to them. Bass is more balanced, but can go pretty deep when the track calls for it. Quite "safe" tuning. Overall quite a good deal for the price. The cable sucks and the new eartips are kinda meh. They can be a bit picky with amp pairings.


FH15 - 1DD/4BA setup. While this is a very well packaged and designed IEM, it's also the least favorite sounding IEM I've heard from Fiio. The overall tuning is on the dark side but with good bass rumble and detail retrieval. The timbre is not natural nor accurate. Often it comes off sounding dark and hollow. No energy on the top end, making it too laid back yet. Fitment and accessories included are pretty decent for the price. Lacks energetic texture/Muddy yet somewhat edgy on the vocals. 

FDX - 1DD setup. FiiO's 14th Anniversary Limited Collector's Edition, the FDX is plated with 24K gold on its shell and inlaid with 60 imitation diamonds delicately in the cupid-cut style. Most balanced tuning, right timbre and tonality. Warm yet detailed. Overall a bit soft in details retrieval (compared to hybrids) but it's also fatigue free. Bass hits deep with good rumble, but not overly done. Overall, it doesn't really sound like any of their previous Fiio tuning, but I kinda like it. Hopefully Fiio will further iterate and have newer models with this new signature. Soundstage is very wide but still presents good details and separation.  

✒️ Author : Kah Hon | 📷 Photo : Kah Hon
More Stars Picker's In-House Review | starspickeraudio.net/blogs/blog
⠀
- - - - -
⭐
Official Store | |
 □ 

Fiio JH3
 □ Retail : RM229  (PM for best price)

⭐ Official Store | bit.ly/Fiio-JD7-P  |
 □ 

Fiio JD7
 □ Retail : RM399  (PM for best price)

⭐ Official Store | bit.ly/Fiio-FH15-P |
 □ 

Fiio FH15
 □ Retail : RM999  (PM for best price)

⭐ Official Store | bit.ly/Fiio-Fa7s-P |
 □ 

Fiio FA7S
 □ Retail : RM1459  (PM for best price)

⭐ Official Store | bit.ly/Fiio-FDX-P |
 □ 

Fiio FDX
 □ Retail : RM3400  (PM for best price)

- - - - -
⠀
■ Physical shop / audio specialist⁣ since 2013⁣
■ Authorised distributor of Fiio in Malaysia
■ 100% genuine / warranty covered⁣
■ Malaysia's first audio theme cafe / library
Related Post