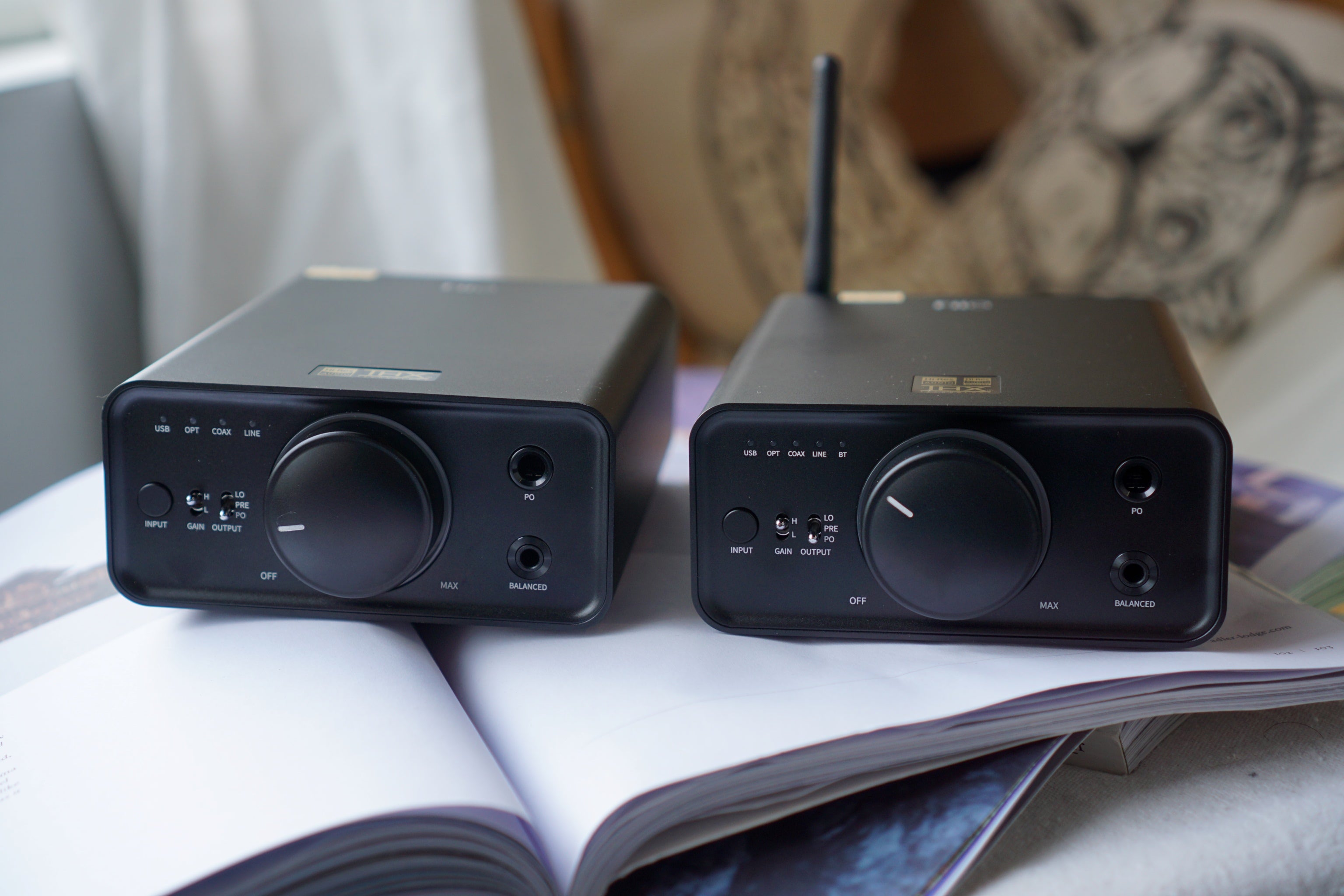 ⭐ Fiio K7/K7 BT | Compact All-rounder  
▶️ Demo unit is available for auditions now!

Fiio K7/K7 BT is the next step up for their entry DAC/AMP combo, the K5. Equipped with dual DACs and THX AAA amp, and Bluetooth V5.1 support for a more convenient connectivity support. 

The new K7 comes with a truly balanced design, dual AKM AK4493SEQ DACs and THX AAA 788+ amp, allowing for a better performance and sound quality. Equipped with a more attractive RGB indicator, you can tell the sampling rate and the working state of the unit. 
Although the size is similar to the K5, the power output is definitely more powerful, and the soundstage is definitely wider. The DAC allows for 32bit/384kHz and DSD256 playback, with a hint of warmness. The THX AAA 788+ circuitry allows for 2W(@32ohm) of maximum output via the 4.4mm balanced output, and clean power output without distortion. The K7 also allows for line in and pre-amp features if you have an active speakers/speaker amplifier for home audio systems.


The K7 BT packs USB, COAX, Optical and Bluetooth inputs in one package and with an additional Fiio Control mobile app, users can further adjust the EQ in Bluetooth mode. Although the Bluetooth input may not sound as good as the USB input, it still provides an easier, wireless connectivity at the expense of music quality. You could technically use that as a Bluetooth receiver for active speakers as well! Apart from the digital inputs, you have a set of RCA line in and RCA line out for pre-amp and line out feature. As for the front panel, it has a standard 6.3mm single ended and a 4.4mm balanced output, a mode selection and gain selection to suit your listening needs of IEM or headphone. 


For the sound, the K7 packs a clean sound overall, with a clean and punchy bass response, and control towards the bass. The decay is slightly faster, while retaining the details in the music without issue. The mids have a hint of sweetness, with slight boost in the low-mid region. Separation is good and with the layering around different instruments clearly present. Music with strings is presented with swift and precise matter. For the soundstage, it is definitely wider compared to K5 Pro, and the vocals are not as intimate or forward. K7 also has a smoother presentation overall, and more refined as well. 


With the 12VDC power input, you can also pair it with a Fiio linear power supply, the PL50. The advantages of choosing linear power supply is the low ripple, noise and a more stable voltage output. You can expect a better detail, darker background and better clarity. The improvement is noticeable even if you are going back and forth between the original power supply and the PL50. You could also expect better layering and ambient details from the music.

Overall, the K7/K7 BT is a serious contender in the RM1000 price range for a desktop DAC with compact footprint, and plethora of input options. The excellent sound and design of the unit makes this a very commendable choice for new audiophiles alike or someone just simply looking for an upgrade with Bluetooth wireless option.

✒️ Author : Leong  | 📷 Photo : Kah Hon
More Stars Picker's In-House Review | starspickeraudio.net/blogs/blog

- - - - -

◆ DAC: AK4493SEQ x 2
◆ Amplifier: Dual THX AAA 788+
◆ Outputs: 6.35mm Single Ended output, 4.4mm Balanced output
◆ Inputs: USB, Optical, Coaxial, RCA
◆ Output Power: 2W@32ohm for 4.4mm output/1.22W@32ohm for 6.3mm output
◆ Output Impedance: <1ohm (32ohm load)
◆ Weight: About 610g
◆ Dimension: 120mm x 168mm x 55mm
⠀
- - - - -
⠀
⭐ Official Store | bit.ly/Fiio-K7-BT-S |
 □ Retail : RM929 (Fiio K7) / RM1099 (Fiio K7 BT) (PM for best price)

⭐ BUNDLE DEAL
  □ Top up RM50 for Fiio LD-TC1 USB Type-B to Type-C cable worth RM59 (50cm)

⠀
- - - - -
⠀
■ Physical shop / audio specialist⁣ since 2013
■ Authorised distributor of Hifiman in Malaysia
■ 100% genuine / warranty covered⁣
■ Malaysia's first audio theme cafe / library
Related Post