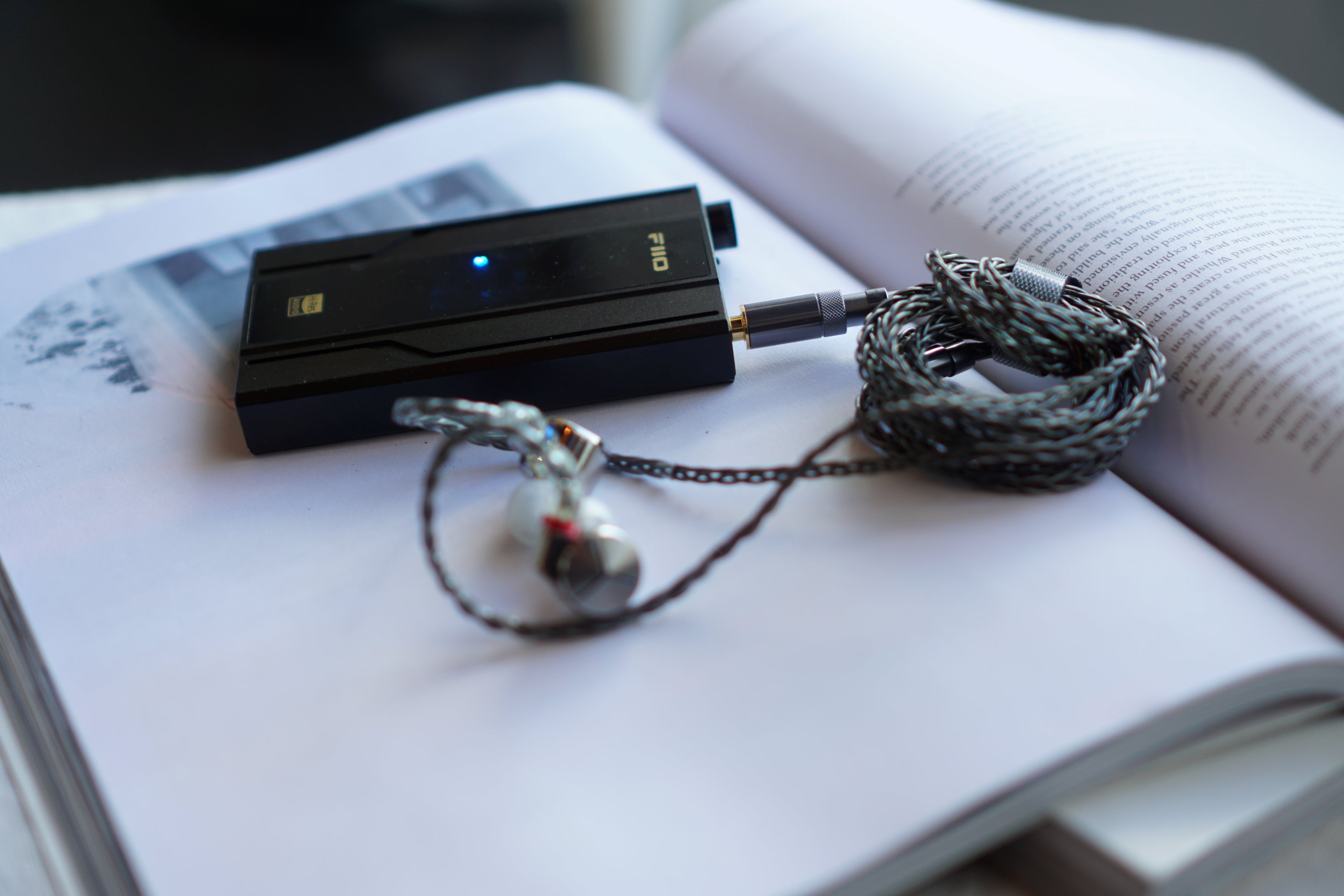 ⭐ Fiio Q11 | Portable DAC/AMP for the masses
▶️ Available for audition now! Ready stock.
Fiio's sub company Jade Audio has been on a roll this year, launching a plethora of new dongle dacs at very competitive price points. The new Q11 is a fine example of such; a portable dac amp device, powered by a substantial battery (2600mAh), touting plenty of power. With an attractive RM389 retail price, it seems to be quite the value package. Is it worthy of a place in your setup?
Initially, the Q11 looked rather big and unwieldy in photos. However, in the metal, the Q11 is quite small, both slim and lightweight, with angular yet smooth lines along its black aluminum chassis, it feels great to hold in your hand. In the middle there is a small, tinted window, exposing the circuit board with LED lights which defaults to blue (bit tacky IMO) and will change colour according to the sampling rate. When it comes to I\O, you have both gold accented SE and Balanced outputs (3.5mm and 4.4mm), a high/low gain switch, and a small, yet tactile volume knob. The Q11 uses a single Type-C usb for both charging and data transfer. You can also use the Fiio control app but its rather limited compared to its other models.
Specs wise, the Q11 sports the Cirrus-Logic Cirrus CS43198, able to decode both PCM up to 384kHz/32bit, and DSD256. Power wise is where the Q11 really shines, as most dongle dacs it competes with will solely rely on its source device for power, limiting its maximum power output. Because the Q11 comes with its own 2600mAh battery and no power restrictions, it can output a staggering 650mW@32ohms on its 4.4mm port. Impressive numbers for a small portable device. As far as volume is concerned, the Q11 supplies a ton of power. There is no audible distortion even at loud volumes.
From a tuning perspective, the Q11 remains true to Fiio/Jade audio's signature, presenting a clean, uncoloured sound. Bass is impactful and nicely textured, with a decent amount of rumble while still being bloat free. Mids are neither too upfront nor recessed, with a vivid and natural presentation. Highs are on the smooth side, with a nice amount of sparkle and detail. The soundstage and imaging is articulate enough, similar to dongle dacs it's competing with. 
Overall, while the Q11 doesn't add any character/enhance the detail of your gear, it is still a great device to own. This Q11 is a sleek, portable device with good ergonomics and style while being dead simple to use. With it's clean, competent sound, and a ton of power, the Q11 is a great amount of value to be had for the asking price.
- - - -

■ Cirrus Logic's CS43198 DAC chipset 
■ PCM 384kHz/32bit & DSD256 support
■ 2600mAh large battery life up to 13 hours
■ Ambient LED light window, colour changes with sampling rate
■ 3.5mm SE & 4.4mm Balanced outputs
■ Powerful Amp with up to 650mW output power
✒️ Author : Kah Hon | 📷 Photo : Kah Hon
More Stars Picker's In-House Review | starspickeraudio.net/blogs/blog
⠀
- - - - -
⠀
⭐ Official Store | bit.ly/Fiio-Q11-P |
 □ Retail : RM389  (PM for best price)

⭐ BUNDLE DEAL
 □ Top up RM149 for Uranus RSOCC USB or Lightning cable worth RM179 (15cm)
** 4 wires Neotech spiral structure rectangular OCC copper silver alloy, gold plated connectors, WBT soldering
⠀
- - - - -
⠀
■ Physical shop / audio specialist⁣ since 2013
■ Authorised distributor of Fiio in Malaysia
■ 100% genuine / warranty covered⁣
■ Malaysia's first audio theme cafe / library
Related Post