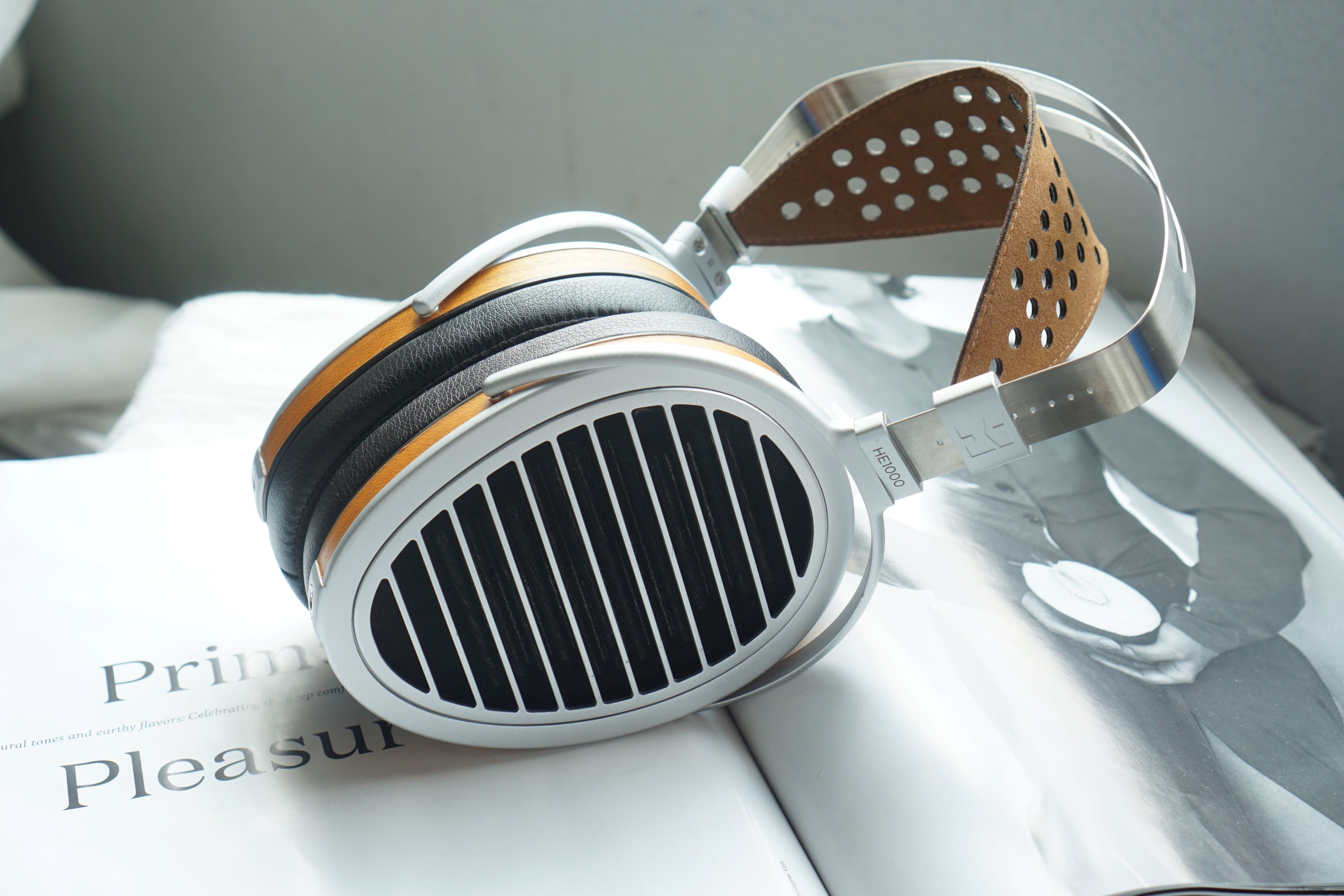 ⭐ Hifiman HE1000 Stealth Magnet / V3 | The third album
▶️ Demo unit is available for audition now! 

The Hifiman HE1000 was a flagship pair of planar magnetic headphones that took the audio world by storm back in the days, renowned for their exceptional sound quality and craftsmanship. With their new revision of the legendary classic, the HE1000 V3 will be a testament to Hifiman's dedication to audio perfection.

Design and Comfort:
The HE1000 V3 features a sleek and modern design that exudes elegance and sophistication. The combination of a metal and wooden construction adds a touch of luxury. The ear cups are spacious and ergonomically designed, providing a comfortable fit even during extended listening sessions.

Sound Quality:
The sound quality is where the differences between the HE1000 V2 and V3 become more apparent. The Hifiman HE1000 V3 introduces several technical enhancements over the V2 model. The V3 utilizes a patented stealth magnet system and an updated driver design with nanometer-thick diaphragm. Compared to the older He1000V2, the V3 has a lusher, less airy and ethereal overall presentation. Staging is more toed-in and intimate compared to HE1000 V2 expansive soundscape. The HE1000 V3 delivers a detailed, spacious, and transparent sound signature that captivates the listener from the very first note. The bass is tight, controlled, and extends deep, while the midrange is lush, smooth, and highly engaging. The treble is still airy, well-extended, and never fatiguing, adding sparkle and brilliance to the overall presentation. The soundstage is expansive, offering a remarkable sense of depth and imaging, creating a truly immersive listening experience.


Technical Excellence:
The Hifiman HE1000 V3 boasts an array of advanced technologies that contribute to its outstanding performance. The Nanometer-thick diaphragm, coupled with a patented stealth magnet system, ensures precise and lightning-fast response, resulting in excellent transient reproduction. The open-back design allows for a natural and spacious soundstage, while the asymmetrical ear cup shape reduces internal resonances and reflections. The hybrid headband design provides a secure and comfortable fit while distributing the weight evenly across the head. These technical innovations work harmoniously to create a flawless audio experience.

Critiques and Considerations:
While the Hifiman HE1000 V3 excels in almost every aspect, there are a few considerations to keep in mind. First, the headphones require a high-quality amplifier to unleash their full potential, which may add to the overall cost. However, the new HE1000 V3 is slightly easier to drive compared to the V2 and can achieve excellent results with a wider range of amplifiers, making it overall more versatile in terms of pairing options. Lastly, the HE1000 V3 can still be quite the chain picky headphone. Finding the right setup might be a tedious process to go through, but the end results will speak for itself.

✒️ Author : B o B o  | 📷 Photo : Kah Hon
More Stars Picker's In-House Review | starspickeraudio.net/blogs/blog

- - - - -

◆ HiFiMAN's Stealth Magnets for detailed, transparent sonics
◆ Patented 'Window Shade' system for driver protection
◆ Features advanced Asymmetrical Magnetic Circuit
◆ World's 1st diaphragm in nanometer thickness
⠀
- - - - -
⠀
⭐ Official Store | https://bit.ly/HE1000V3 |
 □ Retail : RM6850 (PM for best price)

⭐ BUNDLE DEAL
□ Top up RM45 for Uranus Sp-13 headphone case worth RM58
⠀
- - - - -
⠀
■ Physical shop / audio specialist⁣ since 2013
■ Authorised distributor of Hifiman in Malaysia
■ 100% genuine / warranty covered⁣
■ Malaysia's first audio theme cafe / library
Related Post