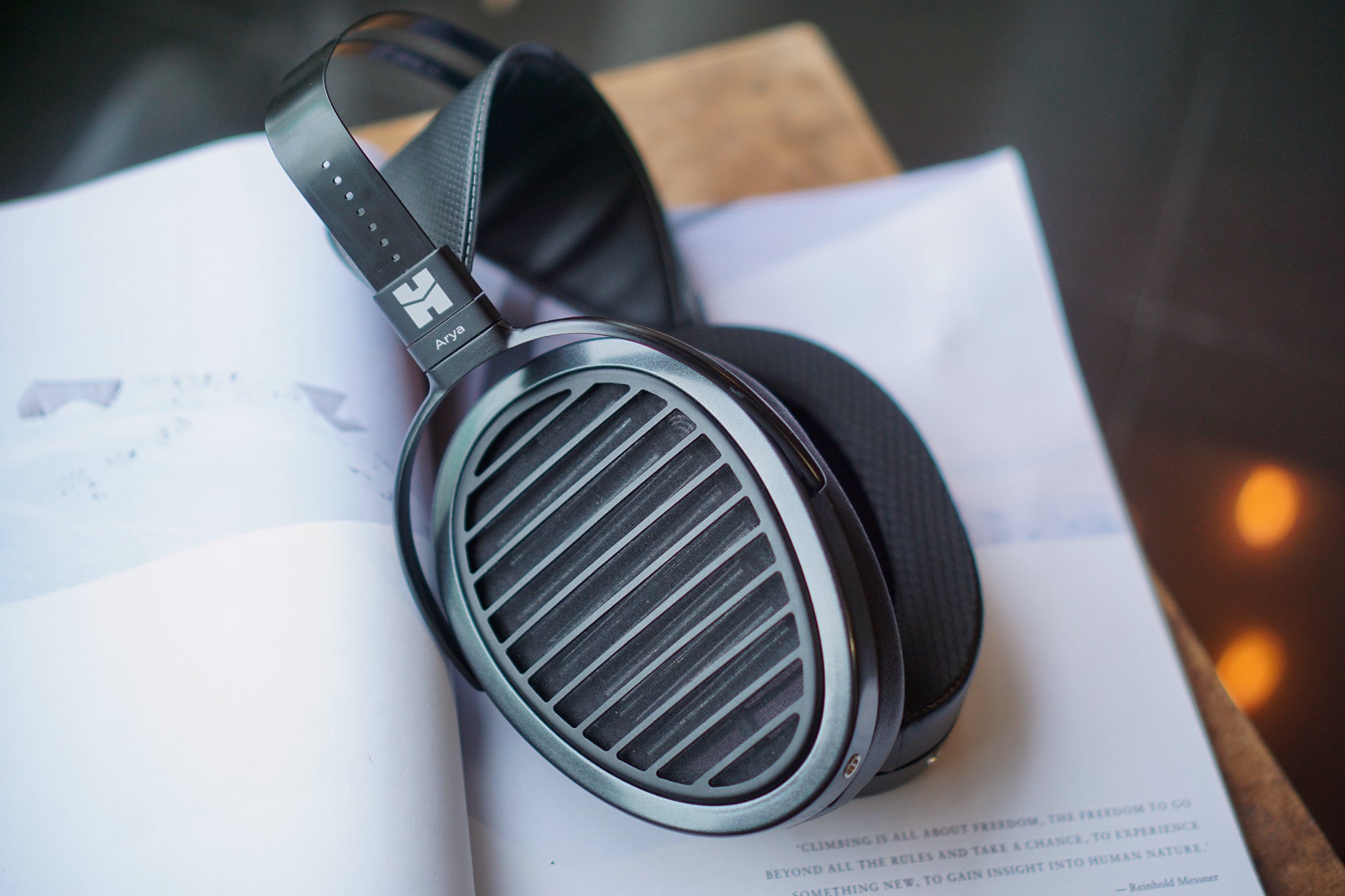 ✒️ Written by Leong | 📷 Photo credit : Hai Wei
HIFIMAN Electronics refreshed the Arya model recently with the Stealth Magnet upgrade and improved diaphragm design. It still looks the same with the previous Arya, but with improved internal design.
The Stealth Magnet design is acoustically invisible as designed by Hifiman which enable the soundwaves to pass through the magnets without interference. It reduces the wave diffraction turbulence that degrades the integrity of the soundwaves. This creates less distortion and delivers accurate sound from the headphone.
The improved diaphragm and magnet design also yields a 4dB increase in sensitivity, from 90 to 94dB at 32ohm impedance. The frequency response is wide, from the super low 8Hz up until 65kHz as well.
The first thing that you may notice with the Arya Stealth Magnet is that it is easier to drive compared to the previous non-Stealth Magnet version, and retains the similar comfort and ergonomics of the headphone. Sound wise, the first thing you may notice is the improved low end rumble: the bass goes deeper and rumbles more, but the mid-bass speed and quantity still remains similar to the older version. Overall, the bass response is well controlled but still gives you the enjoyment and the excitement you need.
The midrange is more or less similar with the non-Stealth Magnet version, still tonally accurate and gives you a sense of richness in the vocals. They are accurate, and easy-going for the tuning.
The treble side, the older Arya is slightly brighter, but still retains the natural, balanced and smooth sounding overall. The new Stealth Magnet version slightly smoothen outs the treble, but still retains the naturalness and the sparkles in the treble. The air and extension in the upper treble has still been retained, providing a sense of natural and well textured instruments and top-end performance.
The next thing you might notice would be the staging, it might be slightly reduced from the older version, but by no means small compared to other headphones. The details are not as revealing as the previous one, but still provides plenty of detail retrieval and micro dynamics to the headphone.
Overall the Arya Stealth Magnet trades the improved bass response and rumble with the soundstage. Although the staging might be reduced just a little, you get a more tonally balanced Arya as the tradeoff. The resolution, imaging, and depth are highly retained from the old Arya and implemented nicely into the new Stealth Magnets.
⠀
//
⠀
✨ SHOPIFY | https://bit.ly/Arya2021-S |
◇ Retail : RM6299
✨ BUNDLE DEAL
◇ Top up for Uranus HP-2SGPC Super Fusion Cable : RM1050 /1.2m (retail RM1250), RM1250 /1.5m (retail RM1500), RM1700 /2m (retail RM2000)
** 5N gold plated silver + 5N palladium plated silver + 5N silver + silver plated OCC copper
** Custom made. Available for 2.5mm, 3.5mm, 4.4mm, 6.35mm and 4 pin XLR connectors
⠀
//
⠀
■ Physical shop / audio specialist⁣ since 2013
■ Authorized distributor of HIFIMAN in Malaysia⁣
■ 100% genuine / warranty covered⁣
■ Malaysia first audio theme cafe / library
Related Post