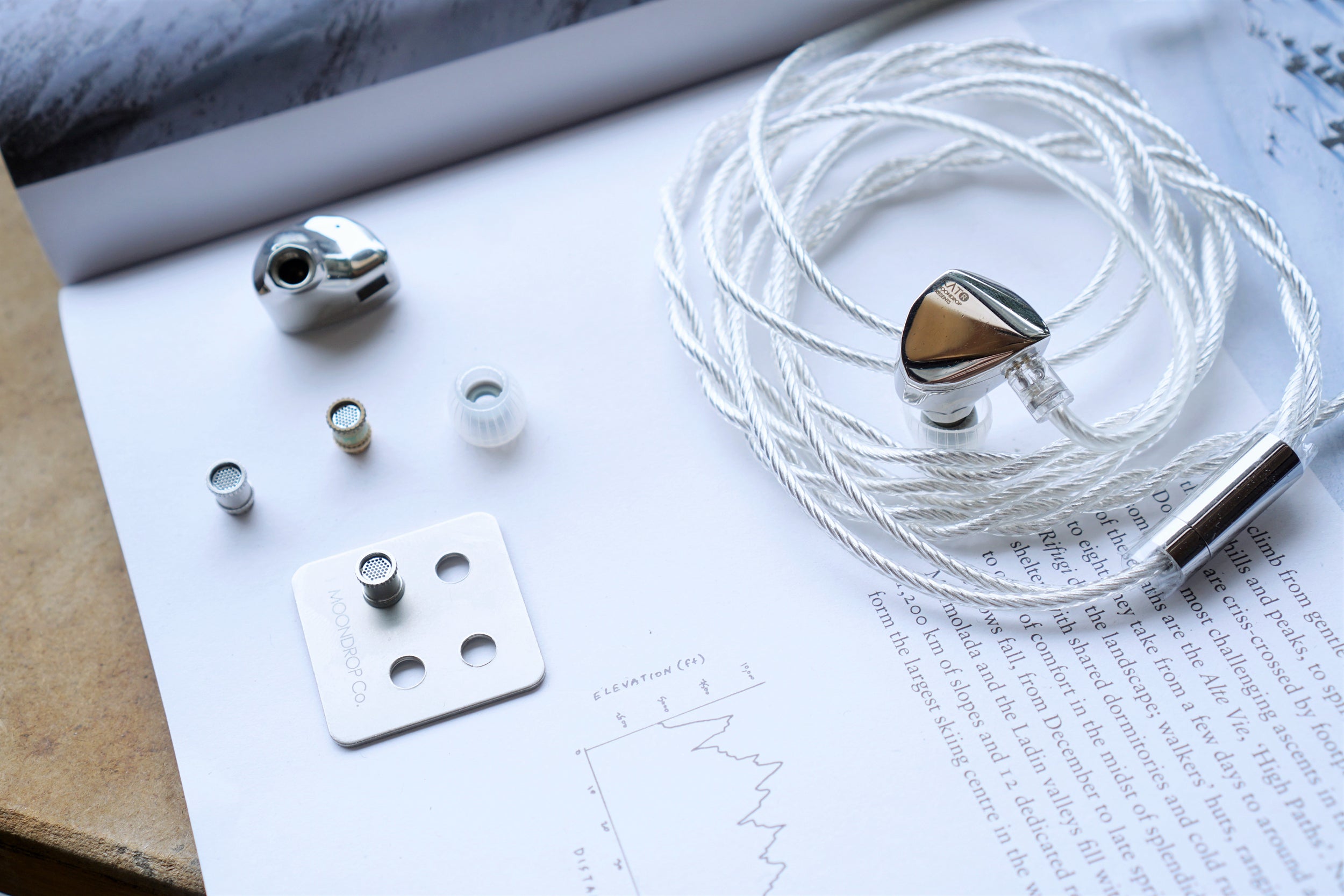 ✒️ Author: Danny | 📷 Photo: Hai Wei
With the successful KXXS model spawning the Starfield and Aria earphones, we wonder what's next for Moondrop. In comes the new Moondrop KATO picking up the baton from the KXXS.
Headliner of the KATO (KXXS Advanced Technology Optimised) is a brand new 10mm ULT super-linear dynamic driver which took more than 2 years of R&D. The dynamic driver is equipped with lightweight and yet rigid 3rd gen DLC Composite Diaphragm which Moondrop reckons can give Beryllium diaphragm drivers a run for its money. Finishing up with a carefully designed frontal acoustic cavity to optimize the frequency response.
A great addition to the KATO is the new Interchangeable Nozzle (SS/Brass) which contributes not only to minor sound tuning but also features a serrated lip to better grip on the ear tip. Speaking of ear tips, you'll find 3 pairs of new Moondrop Spring Tips Silicone ear tips inside the box. They work well together with the Stainless Steel Housing to provide a comfortable fit experience. Attention has been put on the standard cable, KATO now has a thicker 4 core silver-plated high-purity copper cable which tangles less as well.
Sound wise you'll find the KATO to have a slight V shape sound, a hint of brightness while being smooth on the treble presentation, quick initial attack and having good sibilance rejection. Vocals are clear, transparent and portray just a tiny smidget on top of background accompanying instruments. KATO's bass metrics might not satisfy bass lovers but still does have adequate mid bass and sub presence. Its resolution is also good considering its commanding price.
PS: Moondrop goes #TeamKATO on the cover box waifu illustration.
◆ (NEW) 10mm ULT Dynamic Driver
◆ (NEW) 3rd gen DLC Composite Diaphragm
◆ (NEW) Interchangeable Nozzle Design
◆ (NEW) 4 core Silver-Plated High-purity Copper Cable
◆ (NEW) Moondrop Spring Tips Silicone Ear Tips bundled
◆ Stainless Steel Housing
//
✨ SHOPIFY | bit.ly/Kato-shop |
◇ Retail : RM789 | Promo : PM for best price⠀
✨ BUNDLE DEAL
◇ top up RM299 for Uranus IEM-4C OCC Copper
** 4 wires: 100+ strands 7N Deep Cryo OCC copper / 23awg per wire. WBT solder tin

//⠀
■ 8 years physical shop / audio specialist⁣
■ Authorized dealer of Moondrop in Malaysia⁣
■ 100% genuine / warranty covered⁣
■ Malaysia first audio theme cafe / library
Related Post