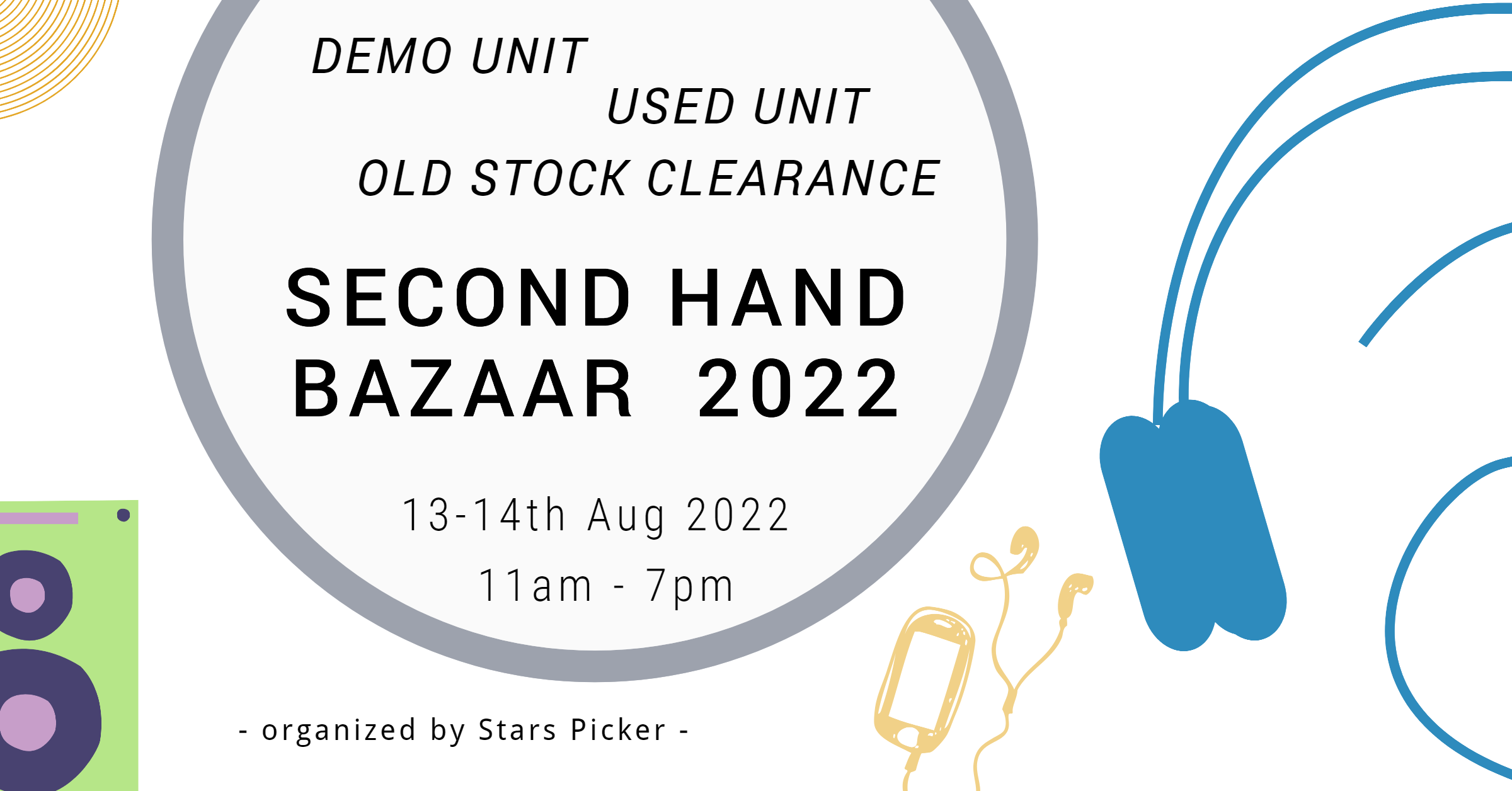 Demo Unit . Used Unit . Opened Box Unit . Old Stock Clearance Sales
■ Date : 13-14th Aug 2022 (Sat-Sun)
■ Time : 11AM - 7PM
■ Venue : Stars Picker Audio Library
Out with the old, in with the new!
We are clearing our discontinued models including used and new units at SUPER SPECIAL PRICES this coming weekend (13-24th Aug / Sat-Sun).
The complete clearance list will be announced early next week, and the special clearance prices will be announced 1 day in advance.
⠀
- - - - - - - - - -
⠀
You're also welcome to sell your own beloved Hi-fi gear or Head-fi devices at the 2nd hand bazaar.
Kindly submit your application in agreement with the T&C as below:
⭐ starspickeraudio.net/pages/2nd-hand-bazaar 🔗
(expired on 10th Aug 2022)
** Due to the space limitations at our store, we will be selecting limited sellers to join our bazaar. We will inform you before next Wednesday if you are selected.
⠀
⭐ Terms and Conditions (consignment for 2nd hand items) :
1️⃣ No rental or labour fees will be charged to the sellers.
2️⃣ All payment transactions must go through Stars Picker's payment portal; we accept bank transfer, cash & credit card payments (6-12 months instalment available for Maybank and Public Bank card users) only.
3️⃣ Consigned goods that have been successfully sold will be charged a 10% commission fee according to the selling price. Kindly note that there will be an additional 1% to 3% bank charge if the buyer pays through credit card or instalment plans respectively.
4️⃣ Sellers can choose to be present at the bazaar to promote/sell their own goods, or to leave said items for our crew to manage. We will have a lot of items to manage throughout the event, so kindly understand that our crew is not responsible nor obliged to promote your items exclusively.
5️⃣ Sellers have to make sure the consigned items are in good working condition and must bring or send it to us at least 1 day before the event.
6️⃣ Stars Picker will not be responsible for the condition of your consigned goods unless it's lost or damaged by our crew—imperfections of the outlook (such as dents and scratches) are not covered.
7️⃣ Warranty and after sales service will be handled by the sellers unless the consigned goods are purchased from Stars Picker.
8️⃣ Sellers are responsible to resolve any dispute cases with the buyers.
9️⃣ Sellers are required to collect back all unsold consigned goods before 21st Aug 2022 (Sun). We can arrange to courier back the unsold consigned goods according to the address provided by the seller and the courier fee will be charged accordingly (RM8 per 1KG in Peninsular, RM12 per 1KG in East Malaysia).
🔟 Sellers are responsible to declare details about the consigned goods honestly. Applicants who deliberately provide misleading information will not be tolerated and may be blacklisted from future events.
Related Post