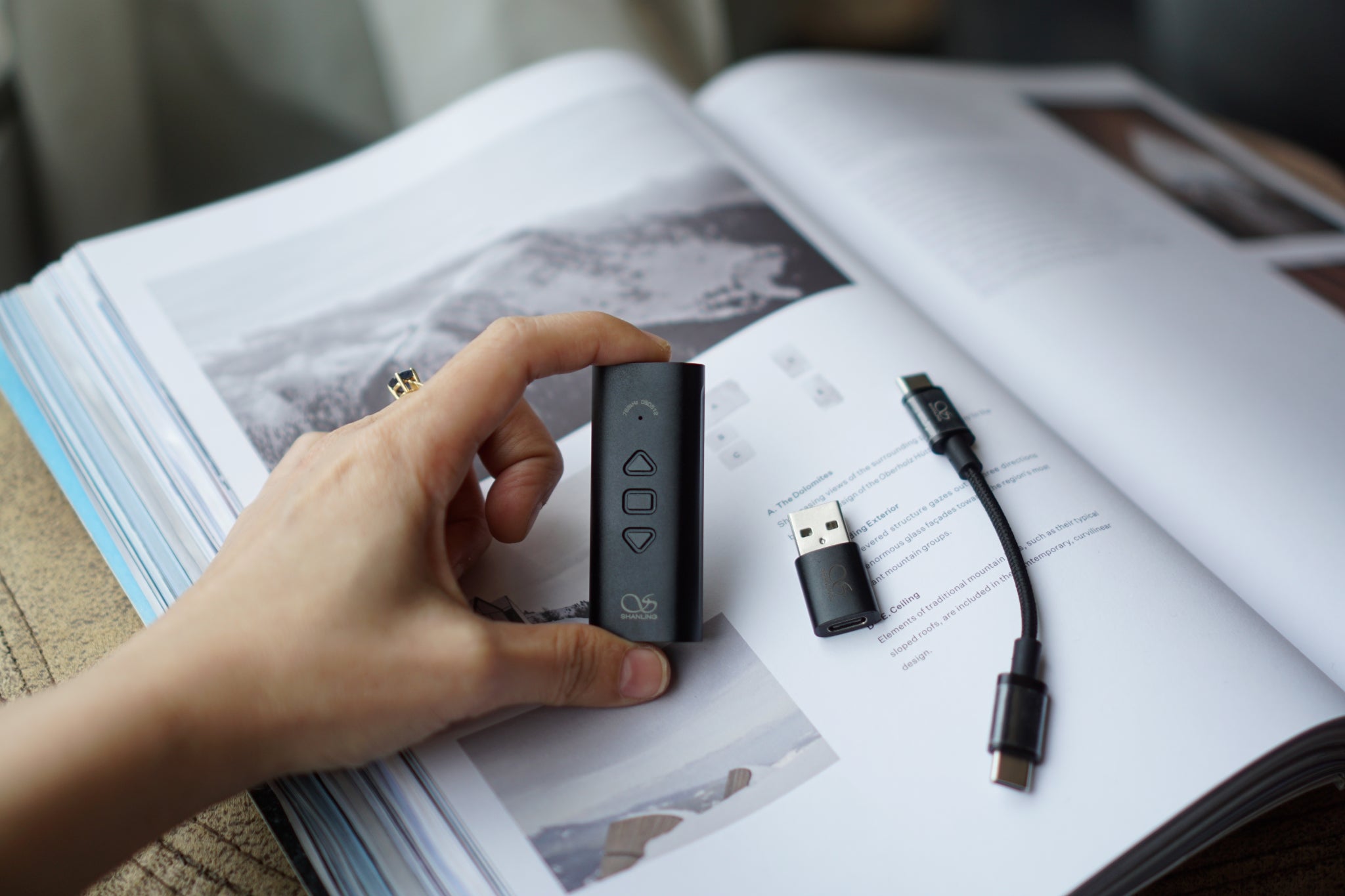 ⭐ Shanling UA3 | Petite Musicale

▶️ Demo unit is available for auditions now!

Shanling Audio is a Chinese-based audio equipment manufacturer that has been producing high-quality digital audio players, amplifiers, and DACs since 1988. The company is known for its attention to detail, precision engineering, and superior sound quality while offering a great bang for buck value. One of Shanling's most recent popular products is the Shanling UA3 portable dongle DAC/amp, which is widely regarded as some of the best portable dongles on the market. Today, we dive in to see what's the hype, and whether it still can compete with newcomers in the space.

The Shanling UA3's physical size is small, lightweight, smooth device, its chassis made from machined aluminum in a satin black finish and a recently introduced dark green option. It features 3 tactile buttons, 2 physical volume controls (which can be controlled digitally through your PC/smartphone), and a middle button which toggles between 2 modes; long press to set the initial gain volume, and the other to change between USB 1.0/2.0 support. The UA3 is also compatible with Eddict Player app.


The UA3 has some impressive specs; it uses the AKM AK4493SEQ DAC chip, which can handle PCM audio files up to 32bit/768kHz and DSD up to DSD512. The UA3 also has Dual Ricore RT6963 built-in headphone amplifiers, which can output up to 211mW of power at 32 Ohms. This means the UA3 can power almost any in-ear monitor you might use while on the go. Additionally, the device includes a balanced 4.4mm headphone output and an unbalanced 3.5mm headphone output, as well as a USB-C input which supports both UAC 1.0 and 2.0. This is a great feature to have, as the UA3 will work with devices like the Nintendo Switch. 

When it comes to sound, the Shanling UA3 is powerful, musical and fun. It doesn't strive for neutral accuracy, rather aiming more towards an engaging, toe-tapping experience. Bass frequencies go down pretty deep, and while the sub bass is present and strong, it doesn't offer the oomph or slam that DAPs and desktop amps can offer. There's a decent amount of decay resulting in a more atmospheric experience rather than a clinical one. Mids are warm, full and vivid however it's not the most resolving, you can hear it struggle to really give pin sharp definition to vocals and instruments. Depending on the IEM pairing, it may come off as lacking some brilliance or definition, but it strikes a fine line of being laid back without being slow or lazy, yet it grabs your attention while not being shouty or piercing. Treble is where the UA3 falls a little behind the competition, as it lacks some brilliance and sparkle. The treble presentation is a bit too rolled off and clearly a step behind the bass and mids. I find the UA3 pairs well with brighter sounding IEMs particularly those that are too sterile/clinical or have too piercing highs as it gives them more life and colour, while at the same time smoothing out any sibilance or peaks in the treble region.

From a technical side, the UA3 isn't not the most resolving or detailed, I can say this is probably due to the DAC's capabilities when compared to more higher end chipsets like the one found in the UA5 where it's noticeably clearer and more micro detailed. But within its similarly priced dongle dac peers like the recent Fiio KA5, it doesn't outright lose to any of them, rather it offers a different experience. 

During my time reviewing the UA3, I kept comparing the UA3 to more powerful and expensive dac/amps be it desktop or DAPs, which isn't a fair fight at all, but at the same time, it also goes to show how much power and fidelity you can eek out from these dongle devices these days. Quite amazing really. However, this audiophile dongle space is fast paced, and I hope the UA3's successors will offer more clarity and definition while still keeping its fun signature.
 

✒️ Author : Kah Hon  | 📷 Photo : Willy
More Stars Picker's In-House Review | starspickeraudio.net/blogs/blog

- - - -

◆ AKM AK4493SEQ DAC
◆ High-Precision Low Jitter Clock
◆ PCM 32-bit 768kHz & DSD512 support
◆ Dual Ricore RT6863 OP-AMPs
◆ Supports USB 1.0 / 2.0 with mode switching

- - - -
 
⭐ Official Store | https://bit.ly/Shanling-UA3-S |
◇ Retail : RM 429 (PM for best price)

⭐ BUNDLE DEAL
□ Top up RM149 for Uranus RSOCC USB Type-C or Lightning cable worth RM179 (12cm)
** 4 wires Neotech spiral structure rectangular OCC copper silver alloy, gold plated connectors, WBT solder tin
□ Top up RM116 for Uranus 8FOCC USB Type-C or Lightning cable worth RM129 (12cm)
** 8 wires: Furutech OCC copper. Gold plated connectors. WBT solder tin

- - - - -

■ Physical shop / audio specialist⁣ since 2013⁣
■ Authorised distributor of Shanling in Malaysia
■ 100% genuine / warranty covered⁣
■ Malaysia's first audio theme cafe / library
Related Post