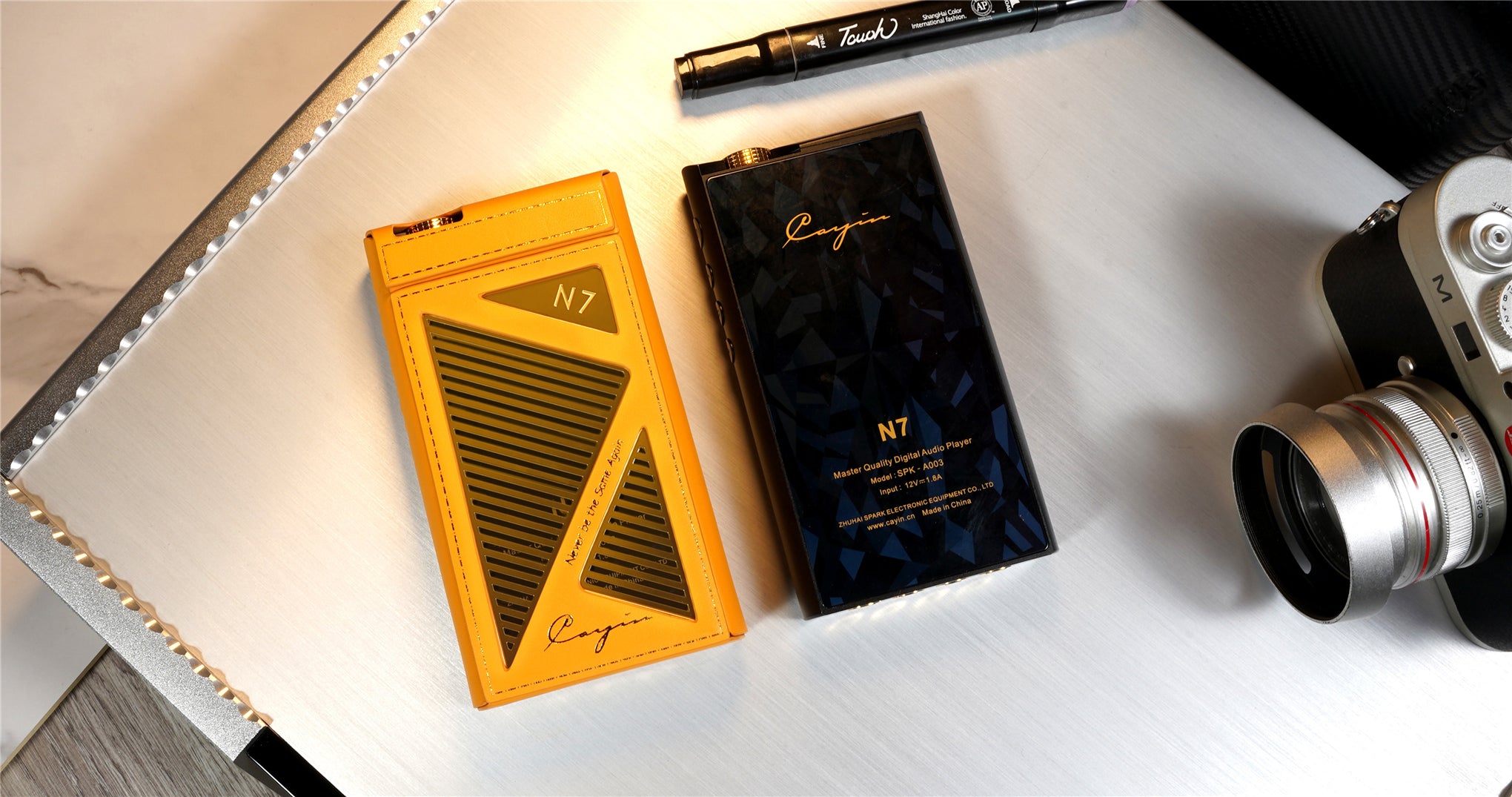 ✒️

Author : Cayin | 📷 Photo : Cayin
Time goes by so fast that the last story we have shared with you on product development was for N8ii. It was in Feb 2022. One DAP inayear, Cayin seems to be a bit slow nowadays.
Before we started let's review the history of Cayin DAP: from the first generation of N6 in December 2014 until the release of the N8ii in February 22 we have models as below: N3, N3Pro, i5, N5, N5ii (S), N6, N6ii (Six audio motherboards and N6ii Titanium Limited Edition), N8(Stainless Steel and Brass Black), N8ii, etc. Eight years Nine models and Sixteen versions, basically one model a year. If you add the portable headphone amplifier (C5, C5DAC, C6, C9), headphones (YB04, YD01) and USB Dongle (RU6), there are 16 models in total.
If you are familiar with Cayin you may know that Cayin has another line of products called Home Audio of products including Tube Amplifiers, CD Players, DACs, Headphone Amplifiers, and Speakers, etc. It is just because Cayin has been devoted to such a product line for 30 years that we can spare us enough time in development of Portable Audio and keep continuous pursuit of innovation and technology for Digital Audio Player.
That is how the N7, the new model started. Unlike the previous 3, 5, 6, 8 and their upgrade versions, the 7 represents not only its positioning in Cayin's N series of DAPs, but also the beginning of a new architecture and technology application.
N7's core audio architecture DAC is built out of 128 pieces of discrete resistors. 32 pieces one channel and four channels forming a fully differential balanced structure, followed by a fully balanced LPF, fully discrete Amplifier Circuit.
When you see this, some of you may think it is an R-2R architecture, after all, R-2R is no longer an unfamiliar term for the portable market. But in fact, this is a 1Bit circuit architecture composed of all differential discrete composed. Or simply speaking it is pure DSD decoding circuit.
- - - - - - - - - -
Next, we will try to explain as much as we could to see if we could present the design philosophy of the N7 using this architecture.
The pioneer of 1Bit technology is Philips. In the early 90s they launched the famous 1Bit decoding DAC chipset: DAC-7, consisting of SAA7350and TDA1547. Then the digital filter has been integrated into SAA7350and the model number was changed to TDA1307, TDA1307+TDA1547, and the name of the chipset has been changed to DF-7. There are too many CD machines with DAC-7 or DF-7, but the one that is probably most known is the Marantz SA-1.
If there were anyone who has interests in finding more you can check as below:
Marantz SA-1 Reference SACD player (2000)
● Philips DF7 (TDA 1307) with 8X oversampling digital filter (for PCMplayback)
● Philips DAC7 (4 x TDA1547 1-bit Dual Bitstream DA Converter) Marantz SA-10 Reference SACD Player (2016)
● MMM (Marantz Musical Mastering) technologies codesigned by KenIshiwata and Rainer Finck, an ex-Philips TDA1547 Audio Engineer
● MMM-Stream convert PCM inputs to DSD256
● MMM-Conversion produce the analogue output fromDSD-256 bitstream.
Here we want to mention that different from 1Bit technology the other one is multi-bit technology, the most famous of which is the PCM1704 introduced by Bur Brown Company (multi-bit technology of that erais R-2R ladder resistor structure). We believe most people know this DAC chip. Here is not too much to review, in fact, in the late 80s and 90s and even the beginning of the 21st century it is a period that Audio industry, digital audio recording industry, DAC chip design and manufacturing industry are in their most splendid time. Then the battle on digital standards, the chip technology, the application of product competition is the moment of blossoming. Interested enthusiasts can check out some of the information at that time.
Both DAC-7 and DF-7 are still used in some Digital Source or Decoders. But in portable DAP, there is no possibility of application because of the large size, packaging method and the demanding power supply. All these limit the application scenario, and at the same time the price has been gone to be sky high and the quantity is very limited. After Cayin completed the discrete R2R design on the N6ii's R01, the 1Bit discrete circuit was in our new plan for our future models. So we have the N7, with a completely new circuit structure, which is also first used in the DAP.
On the N7 1Bit Circuit can be divided into four main parts:
First, Complete the digital audio signal and noise shaping (third order) through FPGA, while over-sampling processing (OS) to join the digital filter, and complete the output of four digital audio signals.
Second, the independent audio bridge system for format conversion, which PCM converted to DSD signal, DSD audio signal through the output, all-round completion of ALL TO DSD;
Third, Using 128 pieces of resistors to form a 4-way fully balanced digital-to-analog circuit, with differential signal output and conversion to a final analog signal through a switching network.
Fourth, Special designed Power supply system to match with the 1Bit circuit. Digital and Analog signals are completely independent and separate, while for the digital circuit, high and low level logic circuit power supply is also completely independent.
Compared to the R2R circuit, the advantage of the 1Bit discrete circuit is that it requires less resistor precision in terms of design and materials, but on the other hand it has higher design requirements such as power supply and digital signal shaping. The N7 was originally planned for Q42022 but was delayed until now, not only because of the Covid reasons, but also because we have adopted a truly integrated and balanced circuit architecture from the digital circuit.
- - - - - - - - - -
What's more, the N7 is also a DAP with an LPF designed from fully discrete components (see architecture above). In general, most DAPs have LPFs completed by integrated op-amp ICs, which also play the role of voltage level amplification and low-pass filtering. However, Cayin decided to use discrete components for the LPF amplification circuit after a thorough study of the circuit characteristics of the TDA1547 and many other related applications. Besides this we also did many many tests and actual listening before going to this direction as this is a tech of the early 1990s, when the audio source format was very single. One of the biggest advantages of discrete components compared to integrated IC is that the design is more flexible, but it has higher requirements on the designer's skills. It requires repeated extensive testing to determine its circuit performance, in order to obtain a higher overall circuit amplification capacity. As for N7 from the LPF closed-loop gain, negative feedback, circuit architecture we began to use discrete components design. The N7 is a class-A push-pull op-amp circuit with a symmetrical structure using NEXPERIA dual-polarity transistors (commonly known as dual NPN+PNP Bipolar Transistors).
In the field of DAP, N7 is a DAP that uses all discrete components to build a true fully-balanced audio signal conversion transmission and amplification. The DAC is a 1Bit circuit built by discrete resistors, the LPF is built by Bipolar Junction Transistors, and the power amplification circuit is 4-channels discrete components based circuit with Low-noise audio grade JFET (Junction gate Field Effect Transistor) as differential input stage and BJT (Bipolar Junction Transistor) as voltage amplification and final output stage. The Dual Amplifier Operation Mode enable users to switch between Class A and Class AB modes instantly through pull-down menu.
As a DAP product, most users use it to drive Headphones. But DAP is also a Digital source and we have seen many users connected the DAP to Desktop devices and use the DAP as a Digital Transport or an Analog Source. So, from the N8 onwards, we have added I2S output and then we have I2S Digital Output, SPDIF Output and USB Output for the Digital Out. As for each DAP, according to their different positioning, cost and space we are also doing our best to design a good LO function so that both Digital Transport or Analog Audio users can set up their system easily and conveniently, which is also the design philosophy Cayin has been adhering to.
In the N6ii, we seem to be crazy and paranoid that we launched an audio motherboard A02 with only LO and PRE. Only 500 pieces made but surprisingly sold out instantly. Until today, we still see users looking for A02 in the second-hand market, which actually shows that there are lots of users who use portable DAP to connect with other Audio Equipment. Therefore, in the N7 we have also included the LO and PRE functions and give them a very high priority.
In N7 as for PRE OUT the Max. Output will go to 4.0Vrms in the Single-Ended Mode while for Balanced Pre Out it will go to 7.0Vrms. LO value is 2.0Vrms in Single-Ended Mode and 4.0Vrms for Balanced. You can choose to connect and use the suitable output to match with other equipment you want to connect with. In the UI you can do the switch very easily.
Now for N7 it is a portable DAP with PO, LO, Pre Out, and three Digital Output.
Regarding N7 for its circuit design features and main functions above are
the general information. If there were anyone who want to know more about the model please help check the official information on our Cayin website.
As for N7 we take Qualcomm 665, 4GB + 64GB uMCP, Android 12 System, and Sharp 5-inch TFT with 1080 * 1920 resolution. With the new platform it will bring new enhancements and different feelings when you are operating the new N7.
As for the battery, N7 is equipped with a 9000mAh 3.8V high-capacity, low internal resistance lithium-ion polymer battery that supports PD2.0 fast charging (QC fast charging is not supported). Depending on the load and operating mode, the longest endurance is about 10.5 hours (3.5PO, AB mode) and the shortest endurance is about 6.5 hours (4.4PO, Class A mode), please see the official announcement for more details for detailed parameters.


On February 23rd we will have an Online Live to introduce the new model N7 in China. On Feb 25th and 26th during the CanJam NYC our N7 will be debuted for the first time at the Booth of MusiTeck. In Japan on Feb 25th and 26th our Distributor Kopek Japan will also organize listening events there at Fujiya AVIC and E-earphone. In Singapore at the same time we will also listening events organized there. Any more information please stay tuned and any further more detail information you can also check with our local agents. We really hope with our newN7 we can bring you a new and enjoyable experience.
On February 27th N7 will be officially launched globally. As for its availability in your local markets please help check with our local agent or follow up on our Facebook where we will update the delivery information of our new N7.
Cayin, Never Be the Same Again!
Related Post