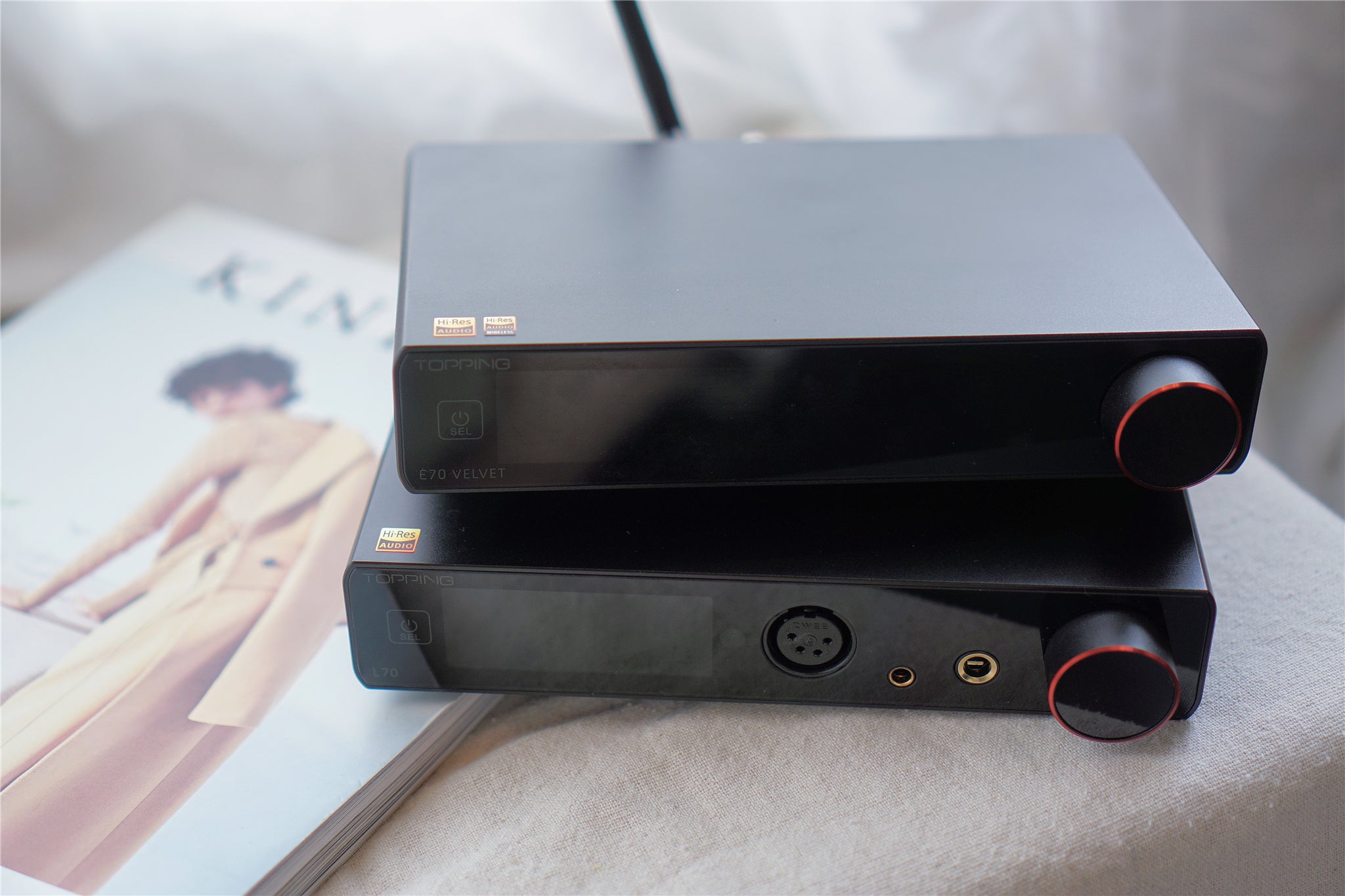 ▶️ Demo units are available for audition now!

Topping previously released the E50 and L50, and updated the E30 II along with the L30 II DAC/Amp combo. Now the newly released E70 Velvet and L70 are in the market. The E70 Velvet, as the name suggests, utilized the latest AKM AK4499EX VELVETSOUND™ dac chip while the non V-version of E70 will be using the ESS Dac instead.


The E70V(Velvet), comes in a slim and sleek package. The long rectangular chassis, with bright LED displays show you everything you need to know: Input, Audio Format and Sampling Rate, Output, and Volume(on pre-amp mode).

For the inputs, you have the standard USB B, Optical, Coaxial, and Bluetooth with LDAC support. It also has a 12V trigger input and output to link up with other products. Output wise, you have a pair of RCA and XLR outs. You can use both of the outputs simultaneously via the selection with the volume knob, so you could possibly hook E70V with L70 via XLR cables and another pair of studio monitor speakers with RCA as well while playing both at the same time.


The L70 on the other hand, has the same simple and sleek design with the E70V, with the volume knob on the right. It shares the similar NFCA module implementation with the A90 series and much of the Topping's amplifier product. The nestled composite module ultra-high gain feedback design is used in the A90 amplifier. Topping claims incredibly good specs with this particular amplifier with 146 dB dynamic range measurement along with a low 0.3µV noise floor and less than 0.1ohm of headphone output impedance.

For the E70V and L70 combo, they sound relatively neutral, without sacrificing the dynamics. The vocals/mids are clinical, and pretty linear down the whole spectrum. The low output impedance with low noise floor, you pretty much get zero noise and dark background even with IEM from the outputs. You can also pair it with dynamic or planar magnetic headphones, it can supply enough juice for different uses.

Overall, the sound and power from the E70V and L70, and competitive price range makes it one of the well recommended DAC/AMP combos you can get in the market.

Topping E70V
■ AKM AK499EX
■ THD: <0.00006% @ 1kHz for XLR output
■ THD: <0.00008% @ 1kHz for RCA output
■ LDAC Bluetooth support
■ 50ohm Output Impedance for RCA / 100ohm Output Impedance for XLR
Topping L70
■ 6.3mm SE output, 4.4mm & 4pin XLR Balanced Output
■ Up to 3.5W @ 16ohm for SE output / Up to 6W @ 16ohm for balanced output
■ THD+N @ 1kHz: as low as 0.00006%
■ Pre-amp outputs with RCA and XLR
⠀
- - - - -
⠀
⭐ Official Store | https://bit.ly/ToppingE70v-S |
Topping E70 Velvet
◇ Retail : RM2,099
◇ PM for best price

⭐ Official Store | https://bit.ly/ToppingL70-S |
Topping L70
◇ Retail : RM1,699
◇ PM for best price
⠀
- - - - -
⠀
■ Physical shop / audio specialist⁣ since 2013
■ Directly import from Topping
■ 100% genuine / warranty covered⁣
■ Malaysia's first audio theme cafe / library
Related Post