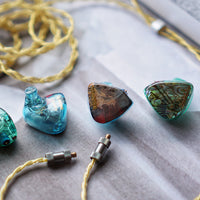 As a local high-end custom IEM company, Elysian Acoustic Labs is one of the few successful stories of Malaysian Audio. Being the winner of the Best Earphone Category in 2019 Foster Alliance Program DIY headphone contest co-hosted with Fujiya Avic & Foster Electric Company, Mr. Lee's expert craftsmanship allowed him to carved out a fanbase in Japan with his custom IEM models. His ingenuity also showed up with the original 3D accupost system for better staging and accurate sound positioning, DiVe pass module implemented on Hybrid models to eliminate unwanted Dynamic Back Chamber resonance and also being one of the first companies to implement Pentaconn Ear Plug across all models. Elysian Acoustics Labs offers one of the very best sounding custom IEMs you can buy today.
RM 6,903.20
KINDLY PM FOR LATEST STOCK AVAILABILITY BEFORE PURCHASINGWarranty: 1 Year Limited (T&C applies, human factor damage not covered)Custom version: TBC [Stars'...
RM 13,580.00
KINDLY PM FOR LATEST STOCK AVAILABILITY & LEAD TIME BEFORE PURCHASING UNIVERSAL VERSION ONLY (starting Dec 2022) Elysian Acoustic Labs...