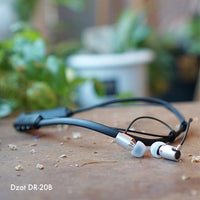 Dazt is a professional manufacturer specialized in the research, development and production of audio products with a fist-class R&D team and a solid system of production and quality control.
Founded in 2013, Dzat provided numerous electronic hardware for several giants with extensive industrial design/ODM services. With their abundant experience in manufacturing and deep comprehension of the audio industry, Dzat produces their own brand of IEMs. Dzat IEMs have thrived in China's domestic market, gaining broad recognition in the audio community, pushing the excellently crafted and cost-effective DZAT brand products worldwide.
RM 25.00 RM 89.00
DZAT DR-20B - BLUETOOTH WIRELESS SPORTS EARPHONE WITH SWEATPROOF Specification:Brand: DZAT Product: DR-20B Anion BT Wireless Earphones Color: Black, Red,...